Looking Back at First Half 2020 and Future Outlook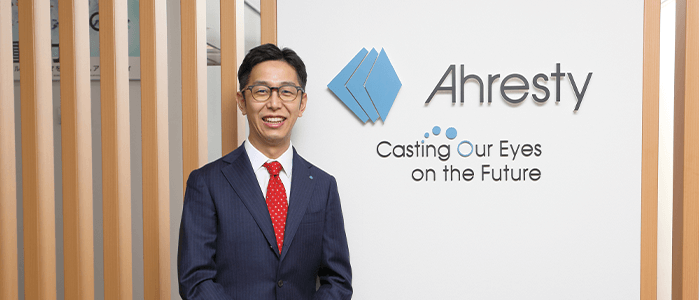 I sincerely offer my deepest condolences to those who succumbed to COVID-19. I also sincerely express the hope for a fast recovery of patients hospitalized.
This pandemic gave a tremendous impact to production activities at Ahresty, too. In the first half of FY2020, our sales was 40% down while operating loss was 3.8 billion yen. Our stock price dropped,and we were not able to provide dividends. For all our shareholders and investors, we deeply apologize for annoyance and worries this has caused you.
There was production suspension due to lockdowns and other restrictions in some countries, leading to a sharp drop in production volume in the first quarter of FY2020. As a result, our financial results for the first half of FY2020 were significantly impacted by the coronavirus pandemic.
In the first quarter, our sales was 15.5 billion yen, which fell below half of 32.0 billion yen for the same period of the previous year. Order volume was approximately 50% down in Japan on a YoY basis, while India and China experienced a decline to around 10% and 40%, respectively. In the North American segment, the United States saw a drop to 30% due to production suspension by automobile manufacturers which are our customers. Meanwhile, in Mexico, whose fiscal year ends in December, the result for the first quarter (from January to March) was not affected by the pandemic, but it ended up with around 80% as major customers suffered from sluggish sales. Each plant adjusted the operation schedule according to order volumes while reviewing the personnel structure and reducing investments and expenditures. Despite of these efforts, as the entire Group, a significant decrease in order volumes was not able to be offset, resulting in operating loss of 3.0 billion yen for the first quarter.
For the second quarter, our sales was 21.3 billion yen, which showed a recovery up to 70% compared to 30.7 billion yen on a YoY basis. Order volumes were also recovered; up to 70% in Japan, some 70% in India, some 90% in China, and slightly below 80% in the United States, compared to the same period of the previous year. In Mexico, the order volume declined to around 30% due to production suspension, since its second quarter was from April to June. However, a steady recovery can be seen from the second quarter. We continue to make adjustments to the operation according to order volumes, such as transfer of personnel among production sites according to their workloads. In the Asia segment, including China showing a quick recovery of demands, profit was back in black. For the entire Group, losses reduced more than 2.0 billion from the first quarter, but operating loss was 780 million yen.
In the proprietary products business, which is sale and installation of raised floor system for clean rooms and data centers, despite such severe circumstances, profit was 150 million yen, even though sales for the first half reduced by 30%.
As stated above, our financial performance for the first half of FY2020 was very severe. However, we have made a steady progress towards improved productivity and establishment of a lean production system to reduce fixed costs and variable costs. In fact, fixed costs reduced 3.2 billion from the first half of FY2019, resulting from reduction in indirect personnel at plants (approximately 110 workers) and contraction in capital investment (1.6 billion yen from the plan for FY2020), and reduction in corporate costs (300 million yen), in addition to restrictions on overtime work and business trips, and changes to the personnel structure. Variable costs also increased 3 percentage points, resulting from improved productivity, bringing outsourced operations in-house, and other measures. Added-values per working hour at a plant have also increased. We will strive to further strengthen our financial foundation in the second half.
In the second half, order volumes for the third and the fourth quarters both are estimated to slightly surpass the previous year, so our business shows a recovery trend. However, as the spread of infections is unpredictable around the world, so our forecast for the full fiscal year remains unchanged.
Lastly, each nation revealed various climate policies, such as complete independence from fossil fuels and reduction in CO2 emissions. It will has a significant impact on Ahresty, which is mainly engaged in die cast components for automobiles. Each automobile manufacturer has increasingly introduced HVs, PHVs, and BEVs, thus vehicles run on gasoline only have declined. Ahresty has actively pursued our efforts to acquire orders for components for such electric vehicles. We estimate that, in 2023, order volume for components for electric vehicles will double compared to FY2019 and the sales will account for 20% of the total sales of die casting. Moreover, we strive to transform our business portfolio to grow such sales to over 30% by 2025. To contribute to vehicle weight reduction, we focus on technological development and sales activities in fields other than powertrains.
Faithfully following monozukuri (manufacturing) principles, we will enhance safety, quality, and productivity as well as develop new products and technologies, while strengthening our financial foundation. I sincerely ask for your continued support.
President & CEO
Arata Takahashi