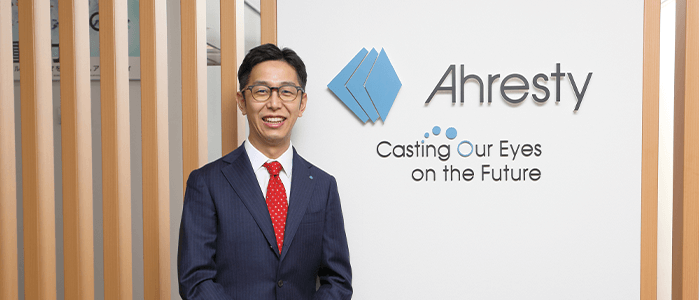 Results for FY2021 1st Half and Future Outlook
 During the 1st half of fiscal 2021, the number of orders received remained around 70% of the level of fiscal 2018 before COVID-19, although the figure has been recovering after bottoming out in the 1st half of fiscal 2020. Affected by the ongoing decrease in automobile production caused by the shortage of semiconductors worldwide and the shortage of auto parts due to the spread of COVID-19 in Southeast Asia, it was below the level of our plan at the beginning of the year. Added to these, there was an increase in costs for procurement of raw materials due to soaring aluminum prices since last summer, leading to the disappointing results for the 1st half of fiscal 2021. We apologize to our shareholders for causing anxiety and inconvenience. In the 2nd half, our customer companies are planning to increase their production, and the number of orders we will receive is expected to increase from the 4th quarter. However, in comparison to the level before COVID-19, the recovery level is projected to be around 80%. Seeing the active automobile demand in the world, we hope that the shortage of parts will end soon so that production can recover.
Under these severe circumstances, Ahresty has been advancing efforts to improve and enhance profitability. In terms of cost reduction, based on the 2019-2021 Medium-Term Management Plan, we have been working to improve productivity and establish leaner production systems. Through such efforts as promoting appropriate personnel placement according to the production scale, streamlining production lines, and revising work processes, we have reduced the consolidated total number of personnel from over 7,300 in fiscal 2019 to around 6,100. Moreover, for die-casting mold manufacturing, we have decided to integrate our three die manufacturing operations in Japan. By also utilizing the Group's overseas network we will enhance our competitiveness.
Our Actions toward Electrification
 Electrification of automobiles is advancing in all our market regions: Japan, North America, China and India. We have been actively working in all these regions to obtain orders for parts to be installed in electric vehicles (EVs, FCVs, PHEVs and HEVs). As a result, the ratio of parts for electric vehicles among new orders received rose from about 13% in fiscal 2018 to about 65% as of the 1st half of fiscal 2021 and is forecast to rise further. While most of these orders are for parts for HEVs so far, we are now enhancing activities to promote sales of parts related to EVs. Aiming to expand our business fields, we will continue sales activities in view of changes in the situation of each country. In addition, the Ahresty Group will work to "improve the energy consumption efficiency of vehicles by providing aluminum die-cast products" and to "reduce the use of fossil fuels by improving energy efficiency, etc.," thereby contributing to mitigating the impact of climate change and aiming to achieve sustainable growth together with society.
2040 Vision "Our Goal"
Transformation of the automotive industry is accelerating. In response to transformation of the industry for the purpose of achieving carbon neutrality by 2050 to protect the global environment, as well as the big change toward electrification of automobiles, we must also transform ourselves. Taking into account that Ahresty will celebrate its 100th anniversary in 2038, young employees both inside and outside Japan discussed our new vision and established the 2040 Vision "Beyond your expectations 2040," which declares Our Goal: "We brighten our planet's future with our lightweight technology," "ensure your satisfaction with Ahresty," and "develop pioneering technology through continuous research." We are now formulating a "new 10-year long-term business plan" as an important interim target point toward achieving the 2040 Vision. Specific measures to be promoted will be clarified in the next Medium-Term Management Plan starting from the next fiscal year. Although significant changes are likely to continue in our business environment, we will make group-wide efforts toward achieving the 2040 Vision to enhance our corporate value. We sincerely ask for your enhanced support.
President & CEO
Arata Takahashi