It is the basis of our manufacturing that we never forget global resources and the environment.
We, at Ahresty, think it very important as a corporation to contribute to society or people in a big sense in addition to producing better products for our customers.
Kumagaya Plant with plenty of green.
At our Kumagaya plant, die casting products that have been produced in the die casting plant and finished their life on the market, come back to have their life renewed as new material. The plant produces 3,000 tons of aluminum alloy ingots each month. Recycled ingots are widely used for die casting, foundry casting and sheet & extrusion at various customers.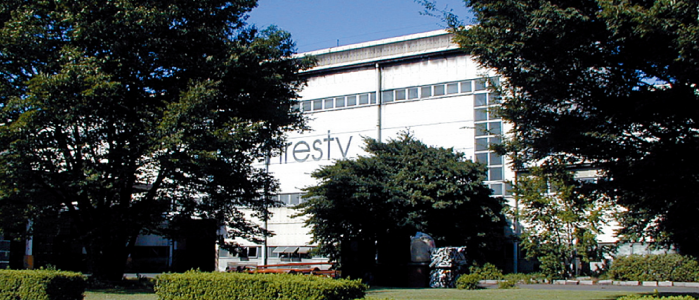 More than 20% of the Plant estate has been planted with trees and this plant has plenty of green.
Aluminum is Environmentally Friendly
Aluminum is a valuable resource, which can be recycled and reused over and over again.
The energy needed to produce aluminum ingots by recycling is equivalent to around only 3% of the energy required to manufacture new aluminum metal from the original raw material bauxite (aluminum ore).
Ahresty proactively promotes and carries out aluminum recycling.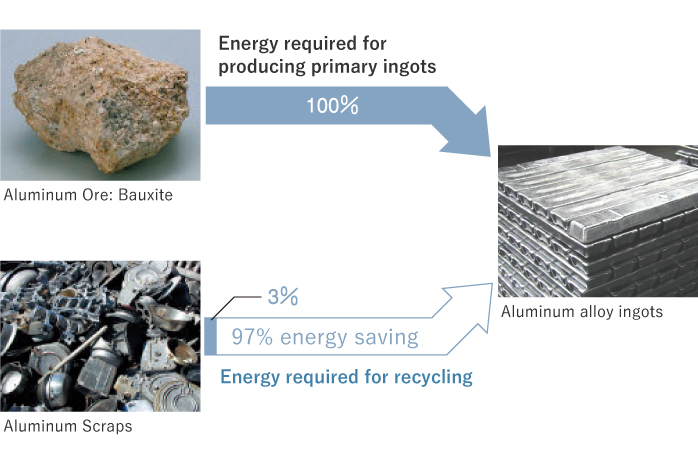 The Recycling Process Explained Simply
At our Kumagaya plant, raw materials including virgin aluminum and various additives from sources such as aluminum cans, window frames, scrap from disassembled cars and other metal waste gathered from around Japan are processed to produce aluminum alloy ingots. Utilizing sophisticated analysis equipment and know-how, and under strict control and management, Ahresty provides superior-quality ingots for industrial use.