We are expending never-ending efforts in order to be a corporation that contributes to society.
We are positively engaged in activity taking its importance on social obligation as a corporate citizen as well as contributing to customers' business development.
We have been making continued efforts to ensure that our plants become rooted in the local communities and develop human resources that can initiate leadership in contributing to society.
Ahresty is committed to growth together with the local communities.
Acceptance of visitors to plants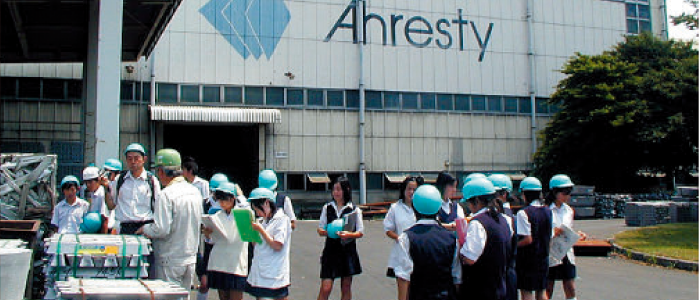 We are positively accepting visitors to our plants in order to help stakeholders understand our company's activities for environmental preservation.
Together with the Community
We visit houses, residents' associations, and companies located near the plants to speak with the people regularly, using the Ahresty Report. We also take part in crime prevention patrols in communities.
As a Global Corporate Citizen
Ahresty established a U.S. company in 1988. Since then, the Company has established production bases in five countries. In global operations, the Company actively interacts with communities as a community-based company.